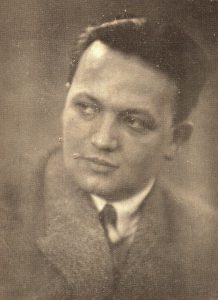 Adolf Koch was one of the pioneers of free-body culture. He developed a form of gymnastics named after him and was the founder of our club.
Adolf Koch was born on 9 April 1897 in Berlin-Kreuzberg. From 1903 to 1911 he attended primary school and then began teacher training at the Kyritz Präparandenanstalt, which he discontinued in 1914 in favour of serving as a medical soldier during the First World War. He was buried during the war and has been disabled ever since. He survived a cholera infection, but it did not remain without consequences for his further life.
After the First World War, he returned to Berlin- After six semesters, he completed his studies in pedagogy, followed by further training in psychology, medicine, massage and gymnastics. Adolf Koch became a member of the Federation of Decisive School Reformers and in the SPD. Already in 1919, he gave gymnastics lessons in the elementary school. Increasingly, he was occupied with the ideas of nudism, which he also wanted to introduce into gymnastics classes. Not only the liberation of the body from the constraints of clothing and the effect of light on the skin as well as the effect of being naked together for self-respect and respect played a role for Adolf Koch, he also recognized that postural damage could be recognized faster and better on the naked body.
In April 1923, Adolf Koch began his work as a teacher in a non-denominational school in Berlin-Moabit. He tried to spread the idea of ​​body culture and teach gymnastics in gym class. His efforts, however, encountered obstacles: too many students, use of the hall by several classes, lack of freedom in the curriculum and much headwind from the student body and the college.
In July 1923, the parent groups for "freie Körperkultur" were founded. Courses took place open air and in the rooms of a school - indoors initially dressed and separated by gender and - after the children had experienced being nude in nature - also indoors naked and mixed. A teaching class, which was only open to invited teachers and parents, was observed through a keyhole, leading to a supposed scandal about naked dances in the school. The discussions reached into the Prussian Landtag, Adolf Koch was officially interrogated and the courses were banned, but only because he had failed to inform the school board in advance about the way the room was used.
But then rehabilitated, he could have resumed public education, but he resigned it for his part. In 1924, he applied for the foundation of his own school. Even though the permit was not granted until May 1926, the "Private curative education physical culture school Adolf Koch" had already been established in 1924. Gymnastics classes were also held at the Institute for Sexual Science. Its founder Magnus Hirschfeld gave lectures at the Koch School. The school should compensate for the lack of natural stimuli from air, light, water and movement with gymnastics, showers, baths, sun lamps and massages. In addition, the school advanced under the direction of Adolf Koch, Ilka Dieball and Hans Graaz to become also a cultural and self-help organisation for the whole (worker) family. This school in Berlin's Friedrichstrasse was the nucleus for branch schools throughout the entire republic. In 1931, 13 of them already existed. Estimates run at around 20,000 organised members and a further 40,000 adherents. On January 1 of 1933, Berlin's Koch school numbered 3947 members. Adolf Koch felt compelled to limit the admission of new members in order not to have to abandon the principle of small gymnastics groups.
The Prussian Minister of the Interior's "Circular to Combat the Nudist Cultural Movement" of March 3, 1933, made a deep cut in April of that year: the school and its open-air grounds were confiscated and Adolf Koch was banned from teaching, his books were burned. In this time Adolf lived Koch between adaptation and conspiracy. In 1934 he founded the AdolfKoch- Association for Social Hygiene, Physical Culture and Gymnastics. The GeStaPo finally dissolved the school because of Marxist tendencies and a "favouring of elements harmful to the people". 1935 Adolf Kochset up the Kreuzberger Ritterstraße Institute for Eubionics in which work was continued in small circles in a makeshift and illegal manner. The illegally continued school also served to help Jews and other persecuted people of the Nazi regime. In 1939 Adolf Kochwas drafted again for military service - as a medical sergeant for wound transports and physiotherapy in Marquardt near Potsdam. Ilka Dieball continued to run the Berlin Institute until the quarter was bombed out on 3 February 1945.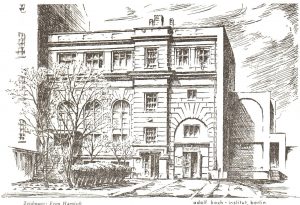 In 1945 Adolf Koch went straight back to work to rebuild the organization and so he started in Neuköllner Hasenheide the new beginning. He was unable to build on the successes of the Weimar Republic. Nevertheless, it was possible to build up a new organization from which today's association emerged. This was founded in 1951, Adolf Koch belonged to it until his death on February 2, 1970. The line then took over Irmgard Koch, née Richter (born July 26, 1923), who retired from the club in 2003 and spent the rest of her life in Sanitz (Mecklenburg) until her death on August 10, 2009.
On the occasion of the 50th anniversary of Adolf Koch's death here is an article from DFK magazine from October 2020.