Date/Time
Saturday, July 20, 2019, all day
Nude Hike @Elbsandsteingebirge, 20 July 2019
begin
: around 11 a.m. in the Kirnitzschtal
Duration
: with breaks until around 5 p.m.
length
: 12-15km, about 800 vertical meters
Just for members!
More information from our tour guide Marc:
Hi Guys,
After the great success of last year's Nude Hike at the Müggelberge, I would like to show you my favourite hiking area, the Elbsandsteingebirge in Sächsische Schweiz, more exactly in the area between Kirnitzschtal and Schrammsteinen, an area, which I know in the meantime like the inside of my pocket (if I had one)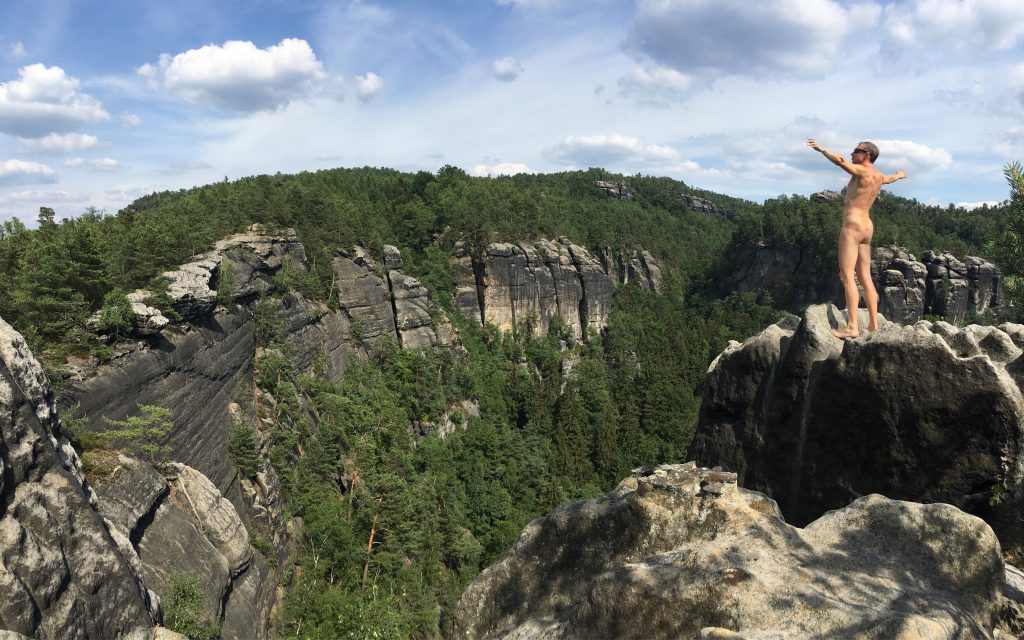 What awaits you:
a grandiose rocky landscape
breathtaking views
gorges and wide landscapes
an enthusiastic tour guide
endless winding narrow hiking trails (some suitable barefoot)
vertical rock walls and (at a safe distance) also such abysses
Ladders, steps, bridges, railings, clamps (according to taste)
possibly a fixed rope route
a refreshing swim in the river at the end
nice people
and hopefully good weather
The route:
We start at Beuthenfall in the Kirnitzschtal, climb up to the Affenstein promenade, which we will walk through, optional then either a loop in the area of the Höllenwand (see photo above), or immediately further over the Climb back in direction of Schrammsteine, or via the Upper terrace path. Back then via Holy stairs, possibly a detour to the Carolafelsen, and then down through the Wild hell to the starting point, where we can bathe in the ice-cold Kirmitzsch .
Depending on the physical (and mental) shape of the participants, we can also try out one of the two fixed rope routes, the Twin stairs or the Häntzschelstiege .
Type of tour:
We will mainly go on narrow trails. We will generally avoid wide hiking trails. Many of the forest paths are suitable for barefoot. Sometimes there are ladders, wooden and iron stairs or stone steps or root paths. Due to the nature of the mountain landscape, many of the mountain paths run with rock faces on one side and abysses on the other (the latter, however, always at a suitable distance).
On the optional climbing paths (no climbing rocks!) around the Höllenwand it is sometimes a bit steeper up and down, and in some places you might have to use your hands for help. But we only go here when everyone feels like it.
Let's calm down again: This is a normal hike and not a climbing tour, i.e. neither climbing experience nor safety equipment is required. Normal fitness and surefootedness are sufficient. Some places are a bit exposed, meaning you have a great view, but there are always handles attached.
Length of the tour:
I expect about 15km and 800 meters altitude difference, depending on the mood of the participants.
Encounters with other people:
Few and only positive. I have often been naked in this area, mostly alone, and have experienced only nice pleasant reactions.
Arrival by car:
The starting point of the hike at the Beuthenfall car park is here:
– https://goo.gl/maps/e126tv5vYx42
To be brought along:
- Good mood
- Provisions and drinks for the day
- Backpack for provisions and clothes
- Solid shoes (unless you are a passionate barefoot walker)
- and what else you need for hiking
If you have any questions, don't hesitate to ask! 🙂
For those who don't know the area, hyou'll find some impressions from earlier hikes on the right side.
So long, I'm looking forward to showing you this great piece of nature!
Marc